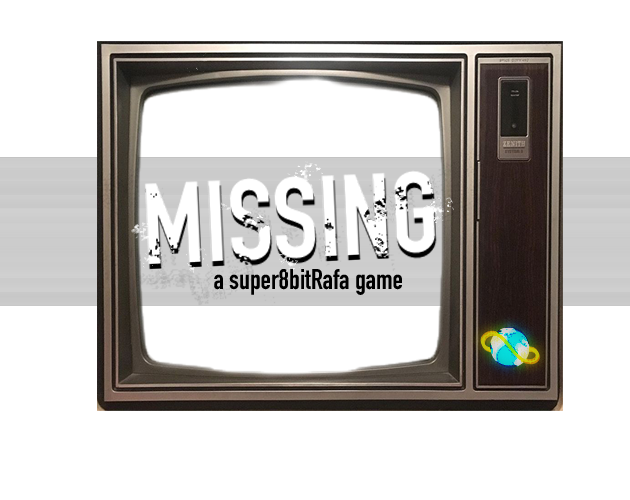 Missing
A downloadable Experience for Windows and macOS
About the Game
The game was made for Global Game Jam 21 online and features music by Random Strat Productions and stars Olivia Vidas as the main antagonist. All graphics, code, design, additional voicing, sound, and additional music by Super8BitRafa.
Controls:

| | |
| --- | --- |
| MOVEMENT | WASD / ARROW KEYS |
| LOOK | MOUSE |
| SWING AXE | LEFT CLICK |
| INVERT LOOK (Y-AXIS) | MIDDLE CLICK |
| FLASHLIGHT | F KEY |
| END GAME | ESC |
| RESTART GAME | R KEY |
About Global Game Jam

The Global Game Jam® (GGJ®) is the world's largest game creation event taking place in physical locations across the globe. Think of it as a 48 hour hackathon focused on game development around a theme. GGJ21 was the first online GGJ due to the pandemic.
Game Description
The game starts in an unknown location as you take control of a father that is apparently looking for his missing son. Armed with an axe, our players trek through a spooky and surreal setting while being taunted by a madly grinning old lady that claims to have your son. The image of the deranged lady only appears through old TV monitors and her voice blares throughout the echoing halls.
This first-person horror game is the first time I attempt making a game that has a "hyper-real" art style. Using the Unity game engine for level design, I tried to expand my ProBuilder pipeline by importing characters made with CC3 (a tool for making humanoid characters). My focus was on story and graphics. I wanted to see if it was possible to make a high-quality-looking game in a small amount of time. In short, I aimed for AAA visuals in a game jam time frame.
About the DEV
Super8bitRafa is a Latinx game developer and visual artist from the Monterey California area. Born and raised in the culturally rich Salinas Valley, Rafa has thrived in his artistic endeavors and has always aimed to explore the human subconscious through imagination and aesthetic design with practices inspired by the early surrealist movements. Constantly striving to explore new avenues of art and modern culture, 8bit shifts his focus to interactive mediums.
Download
Click download now to get access to the following files:
Comments
Log in with itch.io to leave a comment.
Excellent! Very creepy and atmospheric
Hello, we played your games recently in 1scGames and we really liked them. would you be interested in publishing a game on our newly made launcher DigitaLl?
Wow, you've definitely leveled up your first-person game skills! This is much better in a lot of ways than Flushed (although I still like that game too).
In particular the use of old television sets for level lighting was really neat and made for an interesting environment.
I didn't find it necessary to use the flashlight (actually I forgot it was even an option until I got all the way to the end).
Your character models have also improved. The zombie guys looked pretty grotesque (in a good way).
Voice acting was a nice touch!

Overall the game felt like it could have been a flashback/dream scene in a game like F.E.A.R. or something along those lines.

Am I reading right that you made this in 48 hours? That's impressive for such a short timeframe!
Hey man thanks! The flashlight was always meant to be optional. I'm glad you enjoyed it more than flushed, as I was constantly comparing the two games in my mind and was worried that there wasn't enough gameplay in this one. Thanks for playing and the great feedback.